To order merchandise online, click on the "ADD TO CART" button below to
complete your order via PayPals SECURE CHECKOUT.

* PLEASE NOTE SHIPPING CHANGES *
If you wish to order stuff the old fashioned way, by mail order, refer to the directions
at the bottom of the page.




SHOP CDs / DVDs
Clarks Hoodie - Keystone Design on Black



$36.00




Nature Design on Forest Green
$2 from each shirt sold will be donated to the
Western Pennsylvania Conservancy.



$22.00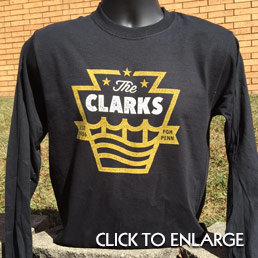 Long Sleeve Keystone Design on Black.



$27.00







Keystone Design Deep V Shirt

*SHIRTS RUN SMALL - CONSIDER ORDERING ONE SIZE LARGER *



$22.00







Short Sleeve Keystone Design on
Dark Heather Navy Tee



$22.00







SHOP CDs / DVDs
To Order by Mail
To order merchandise directly from the band by mail, please send your complete order
with a check payable to "The Clarks, Inc." for the proper amount plus shipping:




$3.50 for the first item, $0.75 for each additional item unless stated otherwise.


Mail payment & order to:

The Clarks c/o JW


465 Biddle Ave #3


Pittsburgh, PA 15221
Pennsylvania Residents add 7% Sales Tax on CD's & Accessories ONLY.
There is no Tax on T-Shirts.